Prices:
Prices vary slightly, as well as minimum nights allowed. Below are our default rates. Occasionally we offer reduced rates, which will show up as a "discount" on your quote if you click "book it." Occasionally we also offer one night stays, although normally all our listings require a two night stay. We USUALLY offer one night stays on "orphan" nights…single nights sandwiched in-between two bookings. To find these nights..check our availability calendar.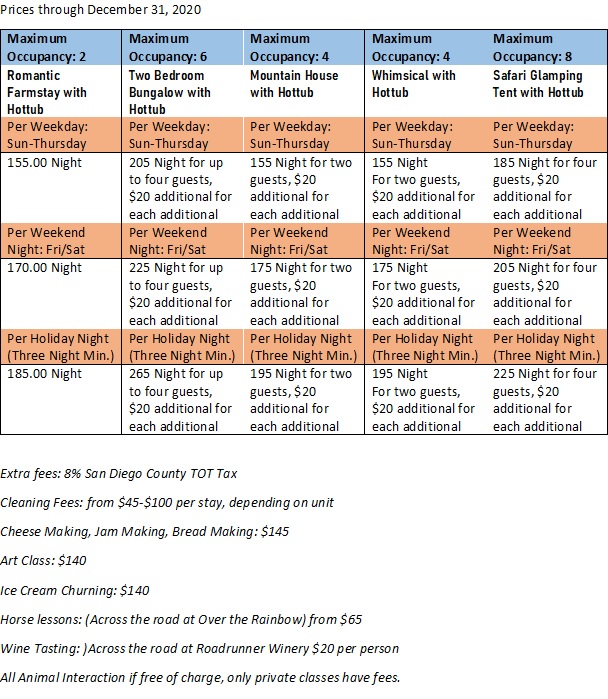 Cancellation Policy:
Cancel within 30 days prior to check in date, and get a 97% refund minus $100 cancellation fee.
(100% refund for activities.) Please consider travel insurance either at check out from our booking software, or from a 3rd party of your choosing.
Guest Access:
All properties have their own designated parking spots. We encourage our guests to walk the roads of our farm and enjoy all that the quiet and greenery that our family farm has to offer. Guard alpacas Silverado and Dusty eagerly greet our guests as they drive in, and they hope you'll stop to offer them their favorite treats. (Provided.)
Guest Interaction:
There's always someone on the farm, it's easy to contact one of us if you have a need or inquiry. We're eager to make your stay memorable! Consider booking an on-farm private Activity such as Cheese Making, Jam Making, or our very popular Ice Cream Activity.
The Community:
ding block of all narrat
Little known, even to San Diegans, Rainbow, California is adjacent to Fallbrook and is right off the I-15 freeway, yet our farm seems like it's miles away from the city. Only a few minutes off the I-15, we're freeway close. 40 minutes or so to Oceanside's beautiful beaches and Carlsbad's flower fields and Legoland, and an exit south of Temecula's wine country tours, right in between San Diego and Los Angeles renowned attractions. Twenty-five minutes or so from Cal State San Marcos University, thirty-five minutes or so from San Diego Wild Animal Park in Escondido and a little over an hour to Seaworld and world famous Balboa Park. The local farmers' market is on Saturday and is 15 minutes away in Old Town Temecula…a destination in itself. We're one exit south of Temecula. Be sure to check out Temecula Olive Oil Company's tasting bar if you find yourself in Old Town. Temecula has a number of vineyards eager to showcase their wines, wine country is one exit north of us (10-15 minutes) and if you book early enough, hot air ballooning is a local wine country favorite. We send a comprehensive Food Shopping Map as well as our signature Activity Guides with your reservation confirmation. There's so much to do!
Getting Here:
No public transportation, although there is an active Uber/Lyft community here. We're in Northern San Diego County, off the I-15. We're not far from the freeway, but a world apart. Adjacent to the beautiful community of Fallbrook, and just south of all that Temecula has to offer.
Neighborhood Overview:
Right in the center of Wine Country, the closest winery is walking distance, (Roadrunner Winery) while traveling either one exit south or one exit north gives you access to numerous winery and brewery options! The trail head to Southern California's only year-round flowing river (Santa Margarita) is a short drive away in Fallbrook, and offers a mostly flat hike along its banks for guests of all ages. From February through end of summer, Kenny's U-pick Strawberry farm is a local favorite, and is just down the road. And most days, balloon rides are available in nearby Temecula. People from all over Southern California make a day of visiting our family-friendly Rainbow Oaks Restaurant, and for a romantic evening out, a short distance further is Cork Fire Restaurant on the grounds of the Temecula Creek Inn.
Other Things to Note:
Smoking allowed outdoors in designated areas only. Hosted check in: 3:00-7:00, check out: 11:00 a.m. Everyone has different needs, we're a small farm and can often work around your needs. No pets, ever.