Welcome to our Farmstay Page! If you'd like to make a reservation, please click here. If you'd just like to check your dates, click here. We update our calendars at least once daily! If you're seeking a last minute, same day reservation, please call guest services, 7 a.m. to 7 p.m. daily: 760-468-8583.
We're excited to welcome guests to our unique farmstay experience! Take classes to make your own fresh butter, hand churned ice cream, canned berry jam, or fresh cheeses. Gather eggs from your own miniature chicken barn (included with the Two Bedroom Bungalow), meet our friendly goats and alpacas, or soak under the stars in your private hot tub (most properties). There's so much to do in the Fallbrook/Temecula Wine Country area, including hiking the Santa Margarita Reserve, wine tasting, ballooning, golfing, antiquing, strawberry picking and more! We send out our comprehensive area Activity Guide when you make a reservation here so that you can plan your get-a-way ahead of time.
Overview
Tucked in the hills of San Diego, our organic subtropical farm is a great centrally located getaway destination. We have four homes on our 20 acre farm to choose from. The first is our one-bedroom, Romantic Farmstay with Hot tub, and is on the first floor of the original farmhouse. This 4-room, one-bedroom suite has it's own entrance and is completely separate from the main farmhouse. Relax in your own hot tub and enjoy the quiet and amazing view! The second is our two-bedroom Farmstay Bungalow with hot tub. The house is nestled in an old growth avocado grove and has its own miniature chicken barn for gathering your morning eggs.
The third property is our Romantic Mountain House. It's the original guest house of the farm here, and is perched on a hillside with expansive views. This 3-room small guesthouse has a functional kitchen with an under counter refrigerator/freezer, a Queen size 4 poster bed in the master bedroom and a full sized sofa sleeper. The adjoining patio offers a large hot tub, and a dining table that overlooks the splendid view of the valley below.
The forth and newest offering is our Whimsical Farmstay Escape and is on the first floor of our family farmhouse. Separate entrance and private patio with view. Lovely queen bed and beautiful mosaic work throughout. Accommodates up to three quests with a pull out, full size sleeper.
If you live in the city, you may be surprised at the majestic night sky. Many come here with plans to go into nearby Fallbrook or Temecula for dinner, and end up cancelling their plans to just enjoy the quiet and solitude that our farm offers. Consider saving your money and dining in! Your kitchen is stocked with fresh salad fixings, breakfast items, and staples such as rice, (with rice cooker), sugar, farm fresh rainbow eggs, coffee (both regular and decaf), cream, bottled water and a local red wine.
Meet our herd of Nigerian dairy goats! They're delighted to meet visitors, and are gentle and friendly. Join us when we tend to them each afternoon between 3:00 and 4:00. Our pair of alpacas have taken up the important duty of guarding our flock of chickens, and will greet you as you enter the farm from the fence line of their enclosure.
Farmstay Information
Accommodations: choose from one of our four farmstay properties: One Bedroom properties or our Two Bedroom Property. Each is unique. Check in is between 3:30-8:00. Check out is at 11:30. We can usually accommodate an early drop off of your vehicle if you are visiting for a tour or balloon ride that starts before our earliest check-in of 3:30, but please confirm ahead of time to assure a space will be open. We're a hillside farm, and flat spots are at a premium! Uber/Lyft are usually available for pick up here on the farm, as well as Sergio's Vintage Pink Cadillac Limo Service. (numbers and more information are included in our reservation confirmation.) We're walking distance to Roadrunner Winery, and 15 minutes or so to Temecula's or Fallbrook's vineyards. We'll email you our extensive Activities Guide which includes lots of farm and nearby activities, as well as breweries and wineries in the area.
Romantic One Bedroom with private hot tub
Spacious bedroom with queen bed, large walk-in closet, cozy living room and beautiful limestone bathroom with all the basics and more, waiting for your arrival. All our farmstay properties are fully air conditioned and heated. Our Romantic Farmstay unit spans the first floor of the original farmhouse. Completely private with a full, albeit small; vintage kitchen off the living room. Our 1952 Chambers stove is a joy to work with. Full size refrigerator stocked with organic breakfast items, bottled water, snacks and beautiful organic produce from our farm. Flat screen TV (no outside TV service) with dvd, a collection of movies, and fast wifi. Coffee maker with our amazing Kodikas coffee beans (and grinder), toaster, microwave waiting for your enjoyment. Hot tub for your private use just steps from your door. Efficient mini-split heating and air conditioning system gives you control of your environment. Parking for up to two vehicles.
Beautiful Two Bedroom Bungalow with Private Hot Tub,
Picket-fenced Chicken Garden, Outdoor Picnic Area: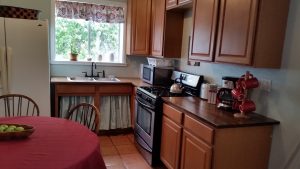 Interact to your heart's content with this unit's very own chickens eager for your treats and pets. Enjoy the shade sails and conversation area just steps from your back door. Eat in the small kitchen, or outside under the shade and enjoy the view and gentle, subtropical breezes. Full size refrigerator stocked with breakfast items, bottled water, snacks and fresh organic fruit from our farm. Flat screen TV's in the living room and secondary bedroom. Family-friendly movie collection for your enjoyment. Coffee maker with coffee beans, toaster, microwave waiting for your family's use.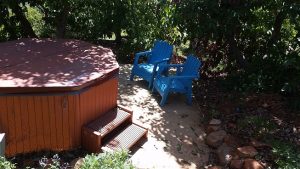 Efficient mini-split heating and air conditioning system gives you control of your environment. Sleeps six maximum, with two in each bedroom and two on the Queen sofa sleeper pullout in the living room. Note that the secondary bedroom has a FULL size bed, not a QUEEN. Well equipped, small kitchen, living room, outdoor seating area and your own chicken barn. Bring the kids and tell them they'll be chicken farmers! The picket-fenced garden includes housing for your miniature, tame chickens. Feed them your vegetarian dinner scraps to augment their regular diet.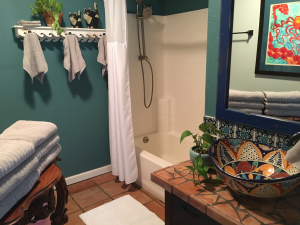 Washer and dryer unit housed in an adjacent outdoor building for your exclusive use. Parking is right to the path of this two bedroom home. Entry requires a few steps UP to the front door. You'll find an umbrella-shaded picnic table, your hot tub, and the shaded canopy of an avocado grove as you walk to your front door, all for your exclusive use. Although the 2-bedroom house is small, the landscaped outdoor areas provides everyone in your party a place to spread out and enjoy quiet time. Parking for up to 4 vehicles.
Romantic One Bedroom Mountain House with Hot-tub and Expansive View
The original guest house here at Morning Song offers an expansive view of the environmentally protected valley below. Known for the coastal mists that come in from the distant coastline, as the crow flies 12 miles away; guests can often look down on wispy clouds as they pass through the valley from their perch in this big windowed, cliff side home. Unwind in the large hot-tub or whip up something tasty from the organic produce we provide in your efficient kitchen. This small, private house offers solitude amid the trees, with a view that gives a sense of being completely alone.
Outside dining area with hot tub in the patio garden attached to the home offers generous space for parties of two to four guests (two guests sleeping on FULL pull-out couch, linens provided.) Compact kitchen, living room with flat screen and a collection of DVD's. Queen bed in bedroom, bathroom is en-suite, which means if someone is sleeping on the pull out FULL couch in the living room, they'll have to enter the bedroom to access the bathroom. Excellent wifi for your Netflix and more; no outside cable service. Parking for ONE car only.
Romantic One Bedroom Whimsical Escape with View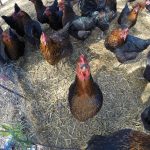 Quiet solitude meets whimsical artists' hideaway. Beautiful, antique Queen bed, working fireplace (we supply environmentally friendly eco-logs) small kitchen, and full-sized, pull out sofa coach offers room for up to 3 guests traveling together. Flatscreen TV, and fast wifi. Table space to work on your laptop comfortably. Feed your very own ducks that are housed adjacent to your patio. Sink your toes into the sand, sun without the crowds! Small barbecue, outdoor bar with view of the misty, treed canyon below. Excellent wifi for your Netflix and more; not outside cable service. Parking for ONE vehicle only.
.
Farm Activities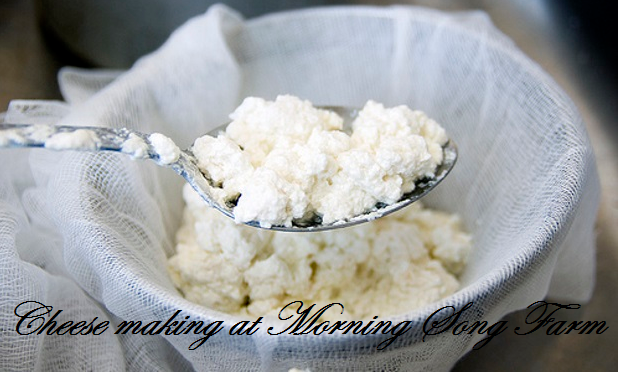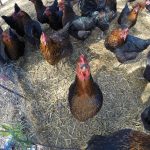 Bird w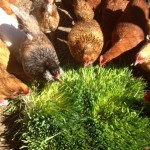 atching, interacting with our friendly, miniature Nigerian goats, and our fluffy alpacas. All our hooved livestock appreciate a granola bar or other crunchy treat; especially Carl the Criminal, above left.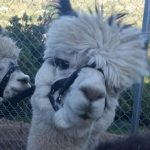 Our gentle miniature goats will eat almost anything, even your wallet. Carl the herd leader currently owes me $40. We offer a hands on, 2 hour long beginning cheese making class for anyone interested in your group, maximum of 4 students per session as well as our fun Hand Cranked Ice Cream class that's great for all ages. (Please order when placing your reservation so that we can schedule. ) Bring bicycles and enjoy the many miles of dirt roads. Walk the fruit groves. Many guests come for such a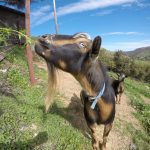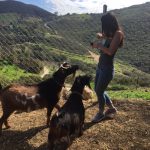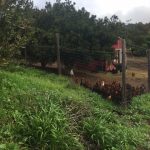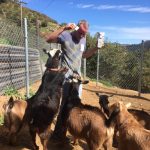 short visit they just want to soak up the quiet beauty of this magical spot. That's welcomed, too.
The Community
Little known, even to San Diegans, Rainbow, California is adjacent to Fallbrook and is right off the I-15 freeway, yet our farm seems like it's miles away from the city. Only a few minutes off the I-15, we're freeway close. 40 minutes or so to Oceanside's beautiful beaches and Carlsbad's flower fields and Legoland, and an exit south of Temecula's wine country tours, right in between San Diego and Los Angeles renowned attractions. Twenty-five minutes or so from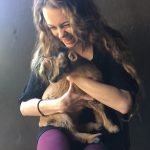 Cal State San Marcos University, thirty-five minutes or so from San Diego Wild Animal Park in Escondido and a little over an hour to Seaworld and world famous Balboa Park. The local farmers' market is on Saturday and is 15 minutes away in Old Town Temecula…a destination in itself. We're one exit south of Temecula. Be sure to check out Temecula Olive Oil Company's tasting bar if you find yourself in Old Town. Temecula has a number of vineyards eager to showcase their wines, wine country is one exit north of us (10-15 minutes) and if you book early enough, hot air ballooning is a local wine country favorite. We send a comprehensive Food Shopping Map as well as our signature Activity Guides with your reservation confirmation. There's so much to do!
Getting here
No public transportation, although there is an active Uber/Lyft community here.
Other Things To Note
Please smoke outdoors in designated areas only. Hosted check in: 3:30-8:00, check out: 11:30. We are eager to offer flexible check in and check outs, if doing so does not interfere with another guests' visit. Please, do ask. Everyone has different needs, we're a small farm and can often work around your needs. No pets, ever.