Availability Calendar
Welcome to our new Farmstay Page! If you'd like to make a reservation, please click here. Our calendar above is updated in real time.
If you're seeking a last minute, same day reservation, please call us, 7 a.m. to 6 p.m. daily:
760-468-8583.
We're excited to welcome guests to our unique farmstay experience! Take classes to make your own fresh butter, hand churned ice cream, canned berry jam, or fresh cheeses. Gather eggs, meet our friendly goats and alpacas, or soak under the stars in your private hot tub (all properties).
There's so much to do in the Fallbrook/Temecula Wine Country area, including hiking the Santa Margarita Reserve, wine tasting, ballooning, golfing, antiquing, strawberry picking and more!
We send out our comprehensive area Activity Guide when you make a reservation here so that you can plan your visit ahead of time.
Overview
Tucked in the hills of San Diego, our organic subtropical farm is a great centrally located getaway destination. We have six farmstays on our 20 acre farm to choose from. Click on the drop-down menu to check out images from each property.
If you live in the city, you may be surprised at the majestic night sky. Many come here with plans to go into nearby Fallbrook or Temecula for dinner, and end up cancelling their plans to just enjoy the quiet and solitude that our farm offers. Consider saving your money and dining in!
Meet our herd of Nigerian dairy goats! They're delighted to meet visitors, and are gentle and friendly. Our pair of alpacas will greet you as you enter the farm from the fence line of their enclosure. And our peacocks are unusually friendly.
Guest Access:
All properties have their own designated parking spots. We encourage our guests to walk the roads of our farm and enjoy all that the quiet and greenery that our family farm has to offer. Guard alpacas Silverado and Dusty eagerly greet our guests as they drive in, and they hope you'll stop to offer them their favorite treats. (Provided.)
Guest Interaction:
There's always someone on the farm, it's easy to contact one of us if you have a need or inquiry. We're eager to make your stay memorable! Consider booking an on-farm private Activity such as Cheese Making, Bread/Butter, Jam Making (canning), Acrylic Art Pour, Beginning Mosaics, or our very popular Hand Churned Ice Cream Activity.
The Community:
Little known, even to San Diegans, Rainbow, California is adjacent to Fallbrook and is right off the I-15 freeway, yet our farm seems like it's miles away from the city.
Only a few minutes off the I-15, we're freeway close. 40 minutes or so to Oceanside's beautiful beaches and Carlsbad's flower fields and Legoland, and an exit south of Temecula's wine country tours, right in between San Diego and Los Angeles renowned attractions. Twenty-five minutes or so from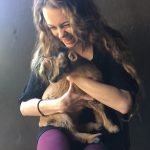 Cal State San Marcos University, thirty-five minutes or so from San Diego Wild Animal Park in Escondido and a little over an hour to Seaworld and world famous Balboa Park.
The local farmers' market is on Saturday and is 15 minutes away in Old Town Temecula…a destination in itself. There's also a much smaller market on Tuesdays on the other side of town (same address as Marshall's) as well as a Wednesday market at the Temecula mall.
We're one exit south of Temecula. Be sure to check out Temecula Olive Oil Company's tasting bar if you find yourself in Old Town. Temecula has a number of vineyards eager to showcase their wines, wine country is one exit north of us (10-15 minutes) and if you book early enough, hot air ballooning is a local wine country favorite. We send a comprehensive Food Shopping Map as well as our signature Activity Guides with your reservation confirmation. There's so much to do!
Getting Here:
No public transportation, although there is an active Uber/Lyft community here. We're in Northern San Diego County, off the I-15. We're not far from the freeway, but a world apart. Adjacent to the beautiful community of Fallbrook, and just south of all that Temecula has to offer.
Neighborhood Overview:
Right in the center of Wine Country, the closest winery is walking distance, (Roadrunner Winery) while traveling either one exit south or one exit north gives you access to numerous winery and brewery options!
The trail head to Southern California's only year-round flowing river (Santa Margarita) is a short drive away in Fallbrook, and offers a mostly flat hike along its banks for guests of all ages. From February through end of summer, Kenny's U-pick Strawberry farm is a local favorite, and is just down the road. And most days, balloon rides are available in nearby Temecula. People from all over Southern California make a day of visiting our family-friendly Rainbow Oaks Restaurant, and for a romantic evening out, a short distance further is Cork Fire Restaurant on the grounds of the Temecula Creek Inn.
Other Things to Note:
Smoking allowed outdoors only, and never while hiking the farm. For the safety of our free ranged livestock, no guest animals, ever.