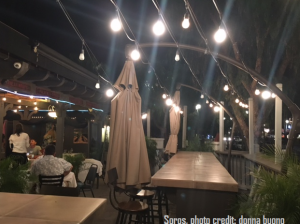 With all the folks heading to Temecula/Fallbrook Wine Country for wine tasting, the fact that the area is also a great cheese lovers' destination is less known. As long-time advocates of all that is cheesy, we here at Morning Song Farm beacon you to consider a curd-focused trip to our hidden gem community.
Soros' Mediterranean
28464 Old Town Front Street
Temecula, CA
951-587-8082
A trip to the area in search of the best cheese isn't complete without a taste of Soro's Mediterranean Grill's saganaki. Served as an appetizer (12.95) for lunch or dinner, it could easily be the main course with a nice glass of wine. Soro's rendition of Saganaki is flamed and spiced feta cheese prepared table side with brandy and lemon. Curl up with your friends on the floor pillows or dine at a table, but enjoy the authentic offerings. If you're enjoying the trip with a few friends, the Mezza Plattter ($49.95) is appetizer paradise. It includes their amazing hommus, baba ghanoush, tzatziki, tabouli, dolma, falafel, tahini, boorak, potato chop, feta cheese and Kalamata olives.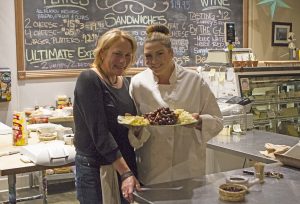 Temecula Valley Cheese Company
42072 5th Street, Temecula, CA
951-693-9500
This is the place to go in Old Town, not far from Soro's. Hidden down a little street off the main drag. A candy store for cheese lovers, their selection is considered to be the best in the valley by many. Their menu lists a 2, 3 or 4 cheese plate combo that includes fruit, bread and olives. They offer a fun Cheese Lovers' gift basket…perfect for scooping up and taking on a hike, or keep it simple and head over to the grassy slopes of Duck Pond (corner of Rancho California Road and Ynez Road, Temecula) and enjoy your cheese while watching the ducks. Duck pond is rarely crowded.
Temecula Creek's Cork Fire Kitchen
44501 Rainbow Canyon Road
Temecula, CA
866-320-4152
Temecula Creek Inn's Cork Fire Kitchen offers a stunning view through sheets of expansive glass, looking down on the manicured greens and water features below. Their cheese board is a favorite (small $13, large: $18) includes house-made jams and chutneys, as well as nuts, local fruits, and honey. In the colder months of the year, their beautiful bar offers a blazing fire, romantic lighting and comfortable seating. Great place to enjoy wine and curd; a lovely cheese platter, a glass of wine and good company.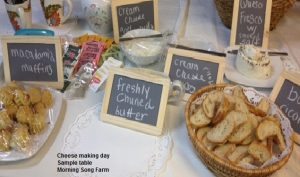 Morning Song Farm
2120 Rainbow Glen Road
Rainbow, CA 92028
760-468-8583
www.morningsongfarm.com
Come with that special someone, or gather a group and book several homes on this 20 acre farmstay tucked in the hills between Fallbrook and Temecula. Accommodations from one to 15 guests, with a one night minimum stay. Cheese making classes are offered to overnight guests ($135 for up to 4 attendees). Learn how to make a 30 minute mozzarella, garlic cream cheese, ricotta, and queso fresco in less than 3 hours. Walk the farm, meet a herd of friendly dairy goats, or soak in your private hot tub.