VacationSoup Archives - Morning Song Farm
Best things to Do for Plant Lovers in Fallbrook/Temecula; North San Diego
Plant loving visitors from all over the world head to Fallbrook in San Diego's North County, to enjoy both nature and nurture, as commercial horticultural excellence has found a home in the green hills here against the backdrop of soaring oaks, 365 frost-free growing grounds, and all that the stunning Santa Margarita River Reserve has to offer.
Spring 2018 has plenty in store for the plant loving visitor to North San Diego!
Finch Frolic Garden Tour
Sunday, March 18, 2018 ~ 10 am – 12 pm
390 Vista del Indio, Fallbrook
$15 per person
Offers a 2-hour class in how to plan your water-wise garden using innovative recycling tips and more. Come get inspired!
RSVP to dianeckennedy@prodigy.com.
Field to Vase Gala Dinner And Protea Tour
April 7, 2018
$185-$205
Resendiz Brothers Protea Growers
Rainbow, CA
A once in a lifetime gala dinner celebrating the amazing exotic plant, the prehistoric-looking protea, hosted by local experts in the field, the Resendiz Brothers. Only a handful of growers in the nation can claim to be experts in this slow-to-mature plant that has captured the imagination of flower designers the world over. Meet Fallbrook's growers and learn about this stunning, long lasting flower, while enjoying the breathtaking flower-covered hillsides surrounding the dining venue. Dinner includes a multi-course gourmet meal amongst tables designed with fresh protea flowers.
Carlsbad Flower Fields
2018 Season: March 1 through May 13
Prices: $16.00 for Adults, $14.00 for Seniors 60+, $8.00 for Children ages 3 – 10,
Children ages 2 and under are Free.
Season Passes: $35.00 for Adults, $30.00; Seniors 60+,
$18.00 for Children ages 3 – 10.
Wagon Rides: $5.00 for Adults,
$3.00 for Children ages 3 – 10.
Field To Vase Carlsbad Flower Fields Gala Dinner And Flower Fields Tour
April 28, 2018
$185-$205. The sister event to the Protea tour earlier in the month. Set in the world famous growing grounds of Carlsbad's flower fields, the gala dinner event sells out every year. Meet flower farmer Mike A. Mellano of Mellano & Company and learn about his family's flower farming history while enjoying an artisan dinner in the middle of a sea of ranunculus.
Temecula Valley Garden Club Flower Show
Saturday, April 14, 2018 9-4
Free
32nd annual flower show and Plant sale
30875
Ranch vista Road
Temecula, CA 92592
The show promises to feature hundreds of exhibits, as well as an opportunity to shop at the plant sale where historically bargain prices for rare and unusual plants are offered by plant loving community members. More information at: debraj@temeculavalleygardenclub.com
Fallbrook Avocado Festival
April 15, 2018
No charge for entry to the event.
One of Fallbrook's biggest community events, the festival has so much to offer…music, food, plant sales and more! Fallbrook has billed itself as the Avocado Capitol of the World, not without reason. The subtropical hills are dotted with small avocado ranches despite NAFTA's impact on growers in the area…some still persist. Parking can be an issue, consider UBER/LYFT and avoid the nonsense. Lots of booths of interesting things to explore, food to try, and plants to buy.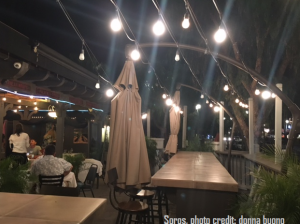 With all the folks heading to Temecula/Fallbrook Wine Country for wine tasting, the fact that the area is also a great cheese lovers' destination is less known. As long-time advocates of all that is cheesy, we here at Morning Song Farm beacon you to consider a curd-focused trip to our hidden gem community.
Soros' Mediterranean
28464 Old Town Front Street
Temecula, CA
951-587-8082
A trip to the area in search of the best cheese isn't complete without a taste of Soro's Mediterranean Grill's saganaki. Served as an appetizer (12.95) for lunch or dinner, it could easily be the main course with a nice glass of wine. Soro's rendition of Saganaki is flamed and spiced feta cheese prepared table side with brandy and lemon. Curl up with your friends on the floor pillows or dine at a table, but enjoy the authentic offerings. If you're enjoying the trip with a few friends, the Mezza Plattter ($49.95) is appetizer paradise. It includes their amazing hommus, baba ghanoush, tzatziki, tabouli, dolma, falafel, tahini, boorak, potato chop, feta cheese and Kalamata olives.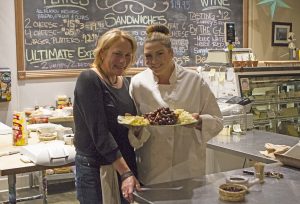 Temecula Valley Cheese Company
42072 5th Street, Temecula, CA
951-693-9500
This is the place to go in Old Town, not far from Soro's. Hidden down a little street off the main drag. A candy store for cheese lovers, their selection is considered to be the best in the valley by many. Their menu lists a 2, 3 or 4 cheese plate combo that includes fruit, bread and olives. They offer a fun Cheese Lovers' gift basket…perfect for scooping up and taking on a hike, or keep it simple and head over to the grassy slopes of Duck Pond (corner of Rancho California Road and Ynez Road, Temecula) and enjoy your cheese while watching the ducks. Duck pond is rarely crowded.
Temecula Creek's Cork Fire Kitchen
44501 Rainbow Canyon Road
Temecula, CA
866-320-4152
Temecula Creek Inn's Cork Fire Kitchen offers a stunning view through sheets of expansive glass, looking down on the manicured greens and water features below. Their cheese board is a favorite (small $13, large: $18) includes house-made jams and chutneys, as well as nuts, local fruits, and honey. In the colder months of the year, their beautiful bar offers a blazing fire, romantic lighting and comfortable seating. Great place to enjoy wine and curd; a lovely cheese platter, a glass of wine and good company.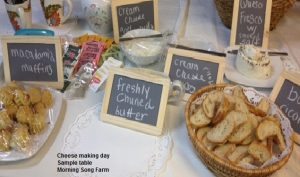 Morning Song Farm
2120 Rainbow Glen Road
Rainbow, CA 92028
760-468-8583
www.morningsongfarm.com
Come with that special someone, or gather a group and book several homes on this 20 acre farmstay tucked in the hills between Fallbrook and Temecula. Accommodations from one to 15 guests, with a one night minimum stay. Cheese making classes are offered to overnight guests ($135 for up to 4 attendees). Learn how to make a 30 minute mozzarella, garlic cream cheese, ricotta, and queso fresco in less than 3 hours. Walk the farm, meet a herd of friendly dairy goats, or soak in your private hot tub.